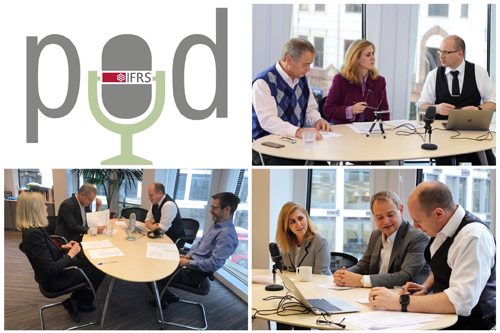 Every month, after the monthly meeting of the International Accounting Standards Board (Board), the IFRS Foundation produces a podcast.
The podcasts summarise the Board's discussions and some of the key decisions taken, and provide a bit of context: why is the Board working on this project, what was the focus of the latest Board discussion, and what are the next steps? They also give an update on other key events.
The podcasts are typically between 10 and 15 minutes long and normally feature the chair and vice-chair of the Board, Hans Hoogervorst and Sue Lloyd, together with education director Matt Tilling.
The table below contains past podcasts. The 'Topics covered' column gives you a brief summary of the main topics covered in that podcast.
If you follow this page you will receive an alert every time we release a new podcast. You can also subscribe to our podcasts in iTunes. For previous podcasts, please visit our archive site.
IASB podcasts
IFRIC meeting podcasts
Date
Topics covered
Podcast