About us
The IFRS Foundation is a not-for-profit, public interest organisation established to develop a single set of high-quality, understandable, enforceable and globally accepted accounting standards—IFRS Standards—and to promote and facilitate adoption of the standards.
IFRS Standards are set by the IFRS Foundation's standard-setting body, the International Accounting Standards Board.
Find out more about the structure of the IFRS Foundation and our consultative bodies.
High-quality financial information is the lifeblood of capital markets
Accounting standards are a set of principles companies follow when they prepare and publish their financial statements, providing a standardised way of describing the company's financial performance. Publicly accountable companies (those listed on public stock exchanges) and financial institutions are legally required to publish their financial reports in accordance with agreed accounting standards.
Our mission statement
Our mission is to bring transparency, accountability and efficiency to financial markets around the world by developing IFRS Standards. Our work serves the public interest by fostering trust, growth and long-term financial stability in the global economy.
IFRS Standards bring transparency by enhancing the international comparability and quality of financial information, enabling investors and other market participants to make informed economic decisions.
IFRS Standards strengthen accountability by reducing the information gap between the providers of capital and the people to whom they have entrusted their money. Our Standards provide information needed to hold management to account. As a source of globally comparable information, IFRS Standards are also of vital importance to regulators around the world.
IFRS Standards contribute to economic efficiency by helping investors to identify opportunities and risks across the world, thus improving capital allocation. Use of a single, trusted accounting language lowers the cost of capital and reduces international reporting costs for businesses.
IFRS Standards are currently required in over 125 jurisdictions and permitted in many more. Find out more about the use of IFRS Standards around the world here.
IFRS® Foundation and International Accounting Standards Board developments
Progress towards global accounting standards
2017
IFRS Foundation launches new website
IFRS 17 Insurance Contracts issued, representing a fundamental overhaul of insurance accounting
IFRS Standards are required or permitted in 138 of 150 assessed jurisdictions
Saudi Arabia requires use of IFRS from 2017
2016
Trustees complete strategy review, leading to increased focus on implementation support and digital reporting
The Board completes second agenda consultation and establishes Better Communication in Financial Reporting as a priority until 2021
IFRS 16 Leases issued, requiring all leases to be reported on a company's balance sheet as assets and liabilities
Indonesia reaffirms commitment to achieve full convergence with IFRS Standards
Tokyo Stock Exchange announces that more than 140 Japanese companies (around 30% of market capitalisation) have voluntarily adopted or plan to voluntary adopt IFRS Standards
2015
IFRS Foundation publishes mission statement. The mission is to develop IFRS Standards that bring transparency, accountability and efficiency to financial markets around the world
The Board completes first Post-implementation Review of a major Standard
China reaffirms commitment to achieve full convergence with IFRS Standards
European Commission publishes a positive evaluation of 10 years of use of IFRS Standards in Europe. Similar evaluations are published in other parts of the world
2014
IFRS 9 Financial Instruments issued, completing response to the financial crisis
The Board launches Investors in Financial Reporting programme with support from leading members of the global investment community
The IFRS Foundation publishes first annual Pocket Guide to IFRS Standards and adoption
The IFRS Foundation and European Securities Markets Authority (ESMA) sign a joint Statement of Protocols
2013
Accounting Standards Advisory Forum (ASAF) established
The IFRS Foundation publishes jurisdictional profiles to chart progress towards creating a single set of global accounting standards
IFRS Foundation and IOSCO establish protocols on IFRS Standards
2012
IFRS Foundation Trustees complete Strategy Review
Monitoring Board completes governance review
IFRS Foundation opens Asia Oceania regional office in Tokyo
The Board completes first agenda consultation, introduces research programme
Argentina, Mexico and Russia all begin using IFRS Standards
US SEC issues final report on use of IFRS—no further steps proposed
2011
Hans Hoogervorst appointed as Chairman of the Board
The Board introduces comprehensive Effect Analysis as part of due process
Trustees establish the IASB Emerging Economies Group, in response to G20 request
Canada begins using IFRS Standards
Nearly 80 jurisdictions have adopted the IFRS for SMEs® Standard, or announced plans to do so
2010
IFRS Foundation launches programme to consult more widely with investors
2009
IFRS Foundation Monitoring Board established, providing enhanced public accountability
Trustees expand the Board to 16 members and introduce triennial public consultation on the Board's agenda
The Board issues the IFRS for SMEs® Standard
G20 leaders support work of the Board, call for rapid move towards creating global accounting standards
Japan approves an IFRS road map, permits voluntary adoption of IFRS Standards
2008
The Board and the US Financial Accounting Standards Board form a Financial Crisis Advisory Group to guide joint response to crisis
Malaysia and Mexico announce their intention to adopt IFRS Standards
2007
The Board and Accounting Standards Board of Japan sign cooperation agreement
More than 100 countries now require or permit use of IFRS Standards
The United States SEC permits non-US companies to report in the US using IFRS Standards, consults on use of IFRS Standards by US companies
Brazil, Canada, Chile, Israel and Korea establish timelines to adopt IFRS Standards
2006
The Board and the US Financial Accounting Standards Board accelerate convergence programme
China adopts accounting standards substantially in line with IFRS Standards, with the goal of full convergence
2005
In Europe, 7,000 companies in 25 countries switch from national accounting standards to IFRS Standards
Concurrently, Australia, Hong Kong, New Zealand, South Africa, and others adopt IFRS Standards
2004
The Board completes priority reforms to IFRS Standards in preparation for first-time adoption by major jurisdictions
2003
The Board introduces live internet broadcast of its meetings
Board issues first Standard—IFRS 1
2002
The Board and the US Financial Accounting Standards Board sign 'Norwalk Agreement' to improve and converge IFRS Standards and US GAAP
Europe adopts a law requiring listed companies on regulated securities markets, including banks and insurance companies, to prepare their consolidated financial statements in accordance with IFRS Standards starting 2005
2001
IFRS Foundation established, with Paul Volcker appointed Chairman of the Trustees, Sir David Tweedie as Chairman of the Board
The Board holds its first meeting, announces initial technical agenda, adopts IASC Standards
2000
IASC agrees to restructure itself into a full-time International Accounting Standards Board, overseen by independent Trustees
IASC completes its standard-setting
IOSCO recommends use of international accounting standards for cross-border listings
1995
IASC and International Organization of Securities Commissions (IOSCO) reach agreement to complete a core set of Standards by 1999
IOSCO commits to reviewing the core standards with the objective of endorsing them for cross-border securities offerings
1973
Part-time International Accounting Standards Committee (IASC) formed, predecessor body to the International Accounting Standards Board (The Board)
Professional accounting bodies of Australia, Canada, France, Germany, Japan, Mexico, Netherlands, United Kingdom/Ireland, and United States form IASC and agree to adopt International Accounting Standards for cross-border listings
The IFRS Foundation Annual Report
The IFRS Foundation publishes an annual report on its activities, including audited financial statements.
With the theme of Better Communication in Financial Reporting, the Annual Report for 2016 (for the year ended 31 December 2016) provides an overview of the IFRS Foundation's activities during the year. These include the conclusions of the Trustees' Review of Structure and Effectiveness, and the outcome of the International Accounting Standards Board's second Agenda Consultation.
The full Annual Report can be found below, as both pdf documents and xbrl files.
Annual reports in Inline XBRL
Annual reports in XBRL (Technical files)
IFRS Foundation funding
The IFRS Foundation (Foundation) has an annual income of £27 million to £30 million. The income comes from three main sources: voluntary contributions from jurisdictions around the world, voluntary contributions from international accounting firms and self-generated income from the sale of subscription services, publications and licensing of our intellectual property.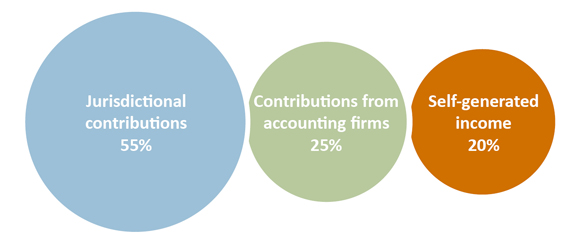 Voluntary contributions
The majority of the Foundation's funding is voluntary contributions from jurisdictions that have put in place national financing regimes. While funding mechanisms differ, most jurisdictions have established either a levy on companies or a system of publicly supported financing.
The contribution requested from a jurisdiction is normally a percentage of the total gross domestic product of all contributing jurisdictions using the most recent International Monetary Fund data.
The Trustees of the Foundation are responsible for the organisation's funding. They are grateful for the commitments made by the many jurisdictions, entities and organisations around the world in support of the Foundation's work.
The Foundation's Annual Report provides an overview of the past financial year's funding.
Self-generated income
The Foundation's licensing policy is independent of contributions. When using the Foundation's materials, different jurisdictions require different amounts of the material and for different use (adoption, convergence, education).
Jurisdictions who pay a voluntary contribution also need to sign a license and pay the licensing fee if they want to publish IFRS Standards or base their local standards on IFRS Standards.
The annual fees for licenses, where IFRS Standards are used for adoption or convergence, were set low so as not to create a barrier to adoption. These fees are normally set in bands based on the jurisdictions' GDP. For more information on adoption and copyright please visit here.
Other self-generated income comes from licensing our intellectual property for commercial use and from selling publications generated by the Foundation and the International Accounting Standards Board as well as our subscription services. For more information on our publications and subscriptions, please visit here. For more information on licensing our intellectual property, please visit here.
Funding in the future
An appropriate financing regime for the Foundation is vital to ensure the independence of its standard-setting process. Such a regime must enable the Board members and Foundation staff to engage interested parties throughout the world in the shaping of financial reporting standards and to undertake all other related activities necessary to achieve the organisation's objectives.
The Trustees are continuing their work towards a global funding system with the following features:
a long-term commitment by jurisdictions;
public sponsorship (either direct or implicit governmental or regulatory support);
flexibility;
proportionally allocated contributions; and
public accountability in the budget process.
These commitments ensure the independence of the Board, which enables the Foundation to:
create and maintain high-quality IFRS Standards;
consult inclusively and comprehensively with stakeholders globally; and
support the worldwide adoption of IFRS Standards in other ways.
That independence enables the creation and maintenance of high-quality IFRS Standards through an inclusive, international consultation process, as well as all other activities undertaken by the organisation to advance the worldwide adoption of IFRS Standards.
The IFRS Foundation Constitution was approved in its original form by the International Accounting Standards Board's predecessor body, the International Accounting Standards Committee (IASC), in March 2000, and by the recently appointed members of the International Accounting Standards Board (the Board) at a meeting in Edinburgh on 24 May 2000.
At its meeting in December 1999, the IASC had appointed a Nominating Committee to select the first Trustees of the organisation. The Trustees took office in May 2000 as a result of the approval of the Constitution.
In execution of their duties under the Constitution, the Trustees formed the IFRS Foundation on 6 February 2001.
Reflecting the Trustees' decision to create the International Financial Reporting Interpretations Committee (IFRIC), now called the IFRS Interpretations Committee (IFRS IC), and following public consultation the Constitution was revised in March 2002.
The Trustees are required to review the Constitution periodically. These reviews have resulted in several amendments to ensure the IFRS Foundation remains fit for purpose.
Find more details about the various reviews conducted by the Trustees here.